A new guide from Alcumus outlines Common Challenges in Contractor Management (and how to solve them).
For many organisations, contractors are an essential part of the business, their specialised skills play a vital role from strategic projects to day-to-day maintenance.
Contractors are often engaged in physical or high-risk jobs, in unfamiliar surroundings, as a result, recordable safety incident rates are typically three times higher for contractors compared with permanent staff, according to Independent Analyst Group, Verdantix1.
Despite this research identified that 47% of organisations expected to increase or significantly increase their use of contractors in the coming two years2.
As supply chains become ever more complex and dispersed, supply chain visibility is important to manage contractors and suppliers without compromising safety, sustainability, or ethics and prevent costly disruptions or weaknesses.
The costs of getting it wrong can be significant, both from a moral point of view, and your bottom line. For example, Balfour Beatty Utility Solutions were fined £2.6 million following the death of a subcontractor.
Never has it been more important to have clear considered risk assessments that are specific to your business and activities. This will help to make sure that your business, contractors and suppliers work safely and to best manage and mitigate risk exposures. So, it's vital that each stage of your supplier chain is assessed for risks and control measures put in place to prevent costly disruptions or weaknesses.
To help to manage the contractors and suppliers you work with more effectively, Alcumus have produced an eBook as a practical resource so you can so you can measure your key risks and give you the confidence that your business and the people you work with are well placed to mitigate risks wherever possible.
The eBook, Common Challenges in Contractor Management (and how to solve them) includes:
The importance of risk management
7 common challenges when managing contractor compliance
5 best practice supply chain tips
How you can manage your supply chain effectively and limit risks
To learn more about the impact of these challenges that organisations face, download the eBook here: Common Challenges in Contractor Management.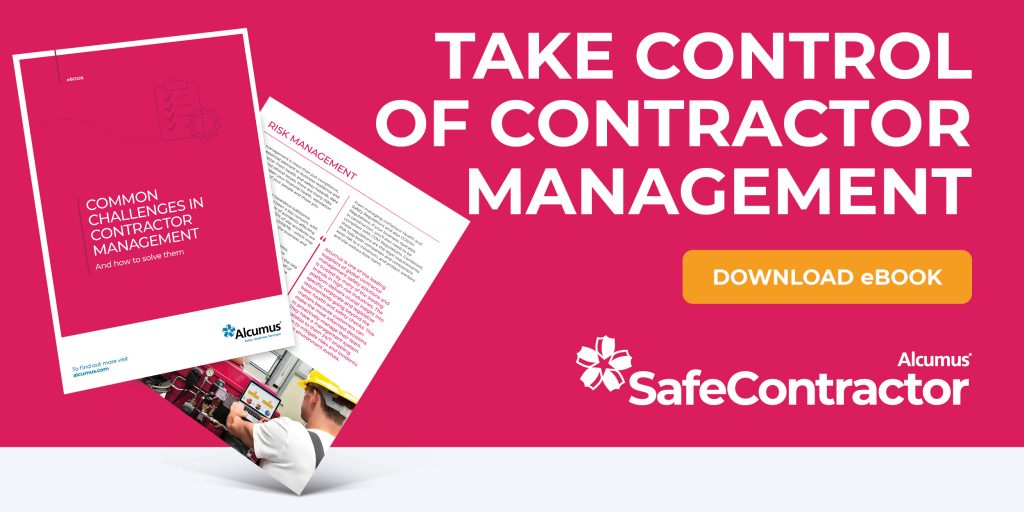 Sources:
Control of Work, Verdantix 2021
Benchmarking Contractor Management, Alcumus 2020