20th Jul, 2021
Read time 2 minutes
How RealWear's Assisted Reality Wearables are Improving Health and Safety for Frontline Workers
Assisted Reality wearables for industries such as manufacturing and automotive have rapidly advanced in recent years, enabling organisations to increase productivity, reduce costs and move towards their digital transformation goals. When it comes to health and safety though, many available devices can lead to unacceptable compromises.
RealWear: where innovation meets safety.
Delivering a reality-first, digital-second approach, safety is not a "bolt-on" to what RealWear does; it is at its very core. RealWear delivers the leading industrial-strength, assisted reality wearable solution. Engaging, empowering and elevating the modern industrial worker, RealWear provides access to the information and expertise needed to complete tasks more safely and efficiently. Field-proven with world-class customers like Toyota, Mars, Honeywell, Vestas and Shell, RealWear's combination of hardware and software, user experience, cloud and AI innovation, as well as an important ecosystem of optimised applications, increases equipment uptime, improves workplace safety and delivers unprecedented ROI.
What is a Head-Mounted Tablet (HMT)?
Mounted to the user's head, the RealWear HMT-1 is a 100% hands-free and voice-controlled assisted reality device, meaning frontline workers can still comfortably wear their PPE while operating the device.  The screen is mounted to a boom arm and is positioned below the user's line of sight. Viewing like a 7" display, operators can refer to it when needed with a simple glance, without it interfering with their field of view when they don't need it.
The boom arm also means users can position the device to perfectly suit their vision and vision aid requirements, including being worn on either the left or right eye. This means that workers can safely view the display regardless of which eye is dominant, or what prescription lenses they might use. No other "smart glass" can do all this. 
How the RealWear Heads-up Display Enhances Health and Safety
First and foremost, the RealWear HMT-1 is built for safety. So, if your organisation is considering the use of assisted reality then RealWear is a solid choice for meeting any health and safety requirements in industry. In addition to allowing hands-free use and unimpaired visibility, the RealWear HMT-1 is fully PPE compliant and designed to support equipment for hands, head, face, hearing and respiratory protection while still working seamlessly. Additionally, the HMT-1Z1 model is the only commercially available product like this in the world that is certified to be "intrinsically safe" in ATEX & IECEx Zone 1 and CSA C1-D1.
The device is more than hardware alone though. Besides its actual build, the RealWear HMT-1 can support hundreds of Android apps that allow for a hands-free experience, contributing to health and safety workplace compliance. Major use cases include: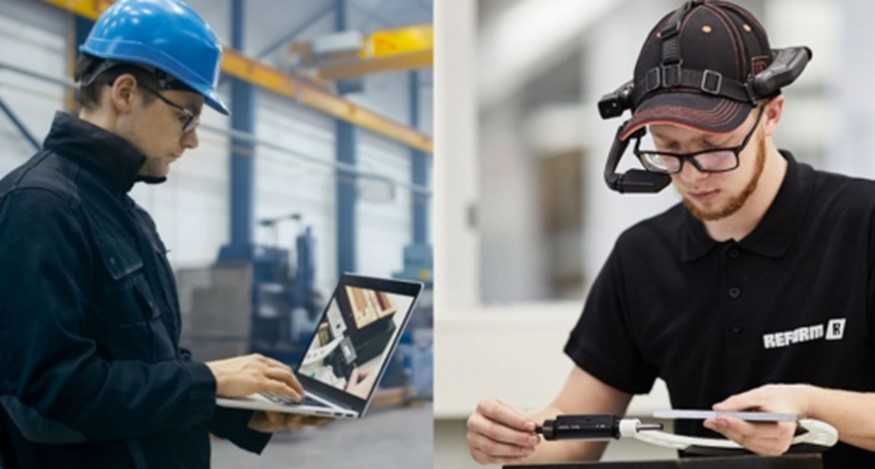 Remote expert: When workers run into a problem they can't fix, a remote expert can annotate on their screen or share technical documents through the RealWear device while on a video call to troubleshoot the issue. Increasing first-time fixes and leading to faster resolutions can reduce health and safety risk that may arise later. The same use case can also enable inspectors to contact their supervisor for a first-person video feed of safety inspections.
Digital workflow and document navigation: Ensuring equipment is maintained can be a time-intensive process. With the RealWear heads-up display, workers can capture photos and video footage to easily evidence the inspection and troubleshoot with a remote expert if something is out of the ordinary. They can also use the HMT-1 to access step-by-step instructions and supporting documentation, allowing workers to ensure every check is completed correctly. This can streamline inspection time while improving accuracy and safety.
The Ultimate Benefits: RealWear Customers Have Reported…
Up to 70% increase in safety compliance
By choosing RealWear, companies around the world are already realising the benefits to both their bottom line and, importantly, the safety of their workers, customers and even environments:
"In the past, we would have to actually fly people over in order to resolve issues. In this case, it's nothing more than a phone-call away. We can still offer the same level of support or even better, using this kind of augmented reality. We've significantly reduced the cost of travel. But at the same time, we're quicker in resolving issues that might contribute to leaks or spills."
Michael Kaldenbach, Digital Realities Leader, Shell.
"Remarkably, we increased first-time fix rates and improved the speed of getting to first-time resolution, all while significantly reducing travel expenses. We saved time, money and the frustration of traveling thousands of miles. We've also discovered the potential of offering our customers better real-time support or to have them remotely view our plant processes. That customer-facing service could become a real competitive advantage."      
Klemens Fliri, IT-Systems Engineer Global UC & Leader IT-Apprenticeship at Hirschmann Automotive.
"Of course HSE is a big one for us, so now we're moving from something hand-held to hands-free and                not having to take off our gloves to do the maintenance. And also quality and compliance. We're not missing steps, we're not missing part of the process. So now we can systematically force them [workers] to do checks, in the manner we want to do them. But the big one that we saw was efficiency. From the maintenance side, we saw a 33% efficiency gain. And we can translate this into financial dollars internally, and that's going from the hand-held to the hands-free."
David Redding, Digital Innovation Manager, Schlumberger.
Whitepaper: "Accelerate Productivity and Generate ROI with Wearable Computers"
 Find out how you can unlock productivity and safety with wearable computing by downloading RealWear's whitepaper. Simply follow this link and complete the download form.
RealWear is distributed by Westbase.io, the leading 4G/5G, IoT and AR glasses supplier in the UK and Europe. For more information, or to request a demo, simply contact Westbase.io on [email protected], +44 (0) 1291 437 567 or +31 (0) 35 799 2290.
Working directly with you and RealWear, Westbase.io will facilitate a customised demonstration of the HMT so that you can see what it can do for you. As a distributor, Westbase.io sells through our broad reaching ICT channel and likely already works with your preferred supplier if you choose to progress beyond this.