IOSH, standing for Institution of Occupational Health and Safety, was set up in 1945 and is currently the largest health and safety membership organisation in the world. IOSH provides training and qualifications in addition to 7 membership levels which help to identify qualified safety professionals and their accompanying level of experience in the industry. IOSH membership can give a serious boost to your health and safety jobs prospects in 2022.
This article will explain the differences between the different memberships and the different criteria that must be satisfied before they can be awarded.
---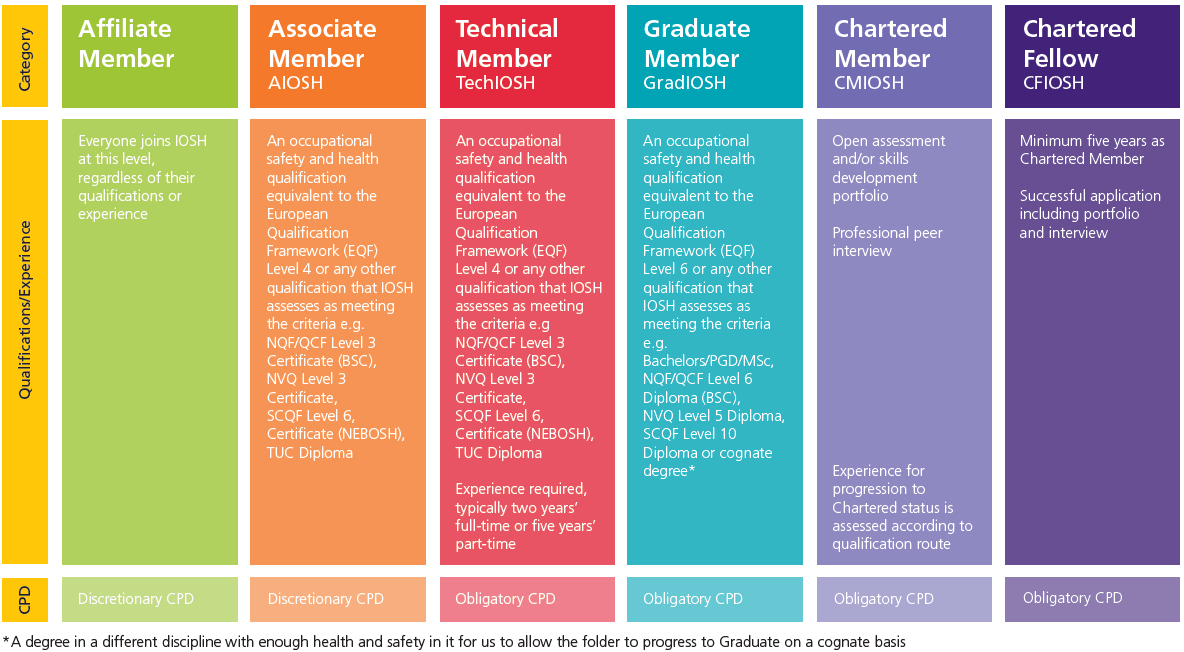 ---
Student IOSH Member
If you are looking for an academic grounding within some of the key areas of health and safety then the IOSH Student Membership level is a good place to start. IOSH support you through your studies and develop you as you enter the world of employment that will help give you a competitive advantage in the workplace.
After you have completed your studies you will be eligible to progress to the next IOSH membership level, moving on to either an Associate, Technical or Associate IOSH member.
Affiliate IOSH Member
Becoming an affiliate member of IOSH is the first step that every professional must take. From this, further membership levels can be accessed. From affiliate, the next step is either to become an associate member or a graduate member.
Associate Member (AIOSH)
In order to become an associate member of IOSH, you must have acquired an occupational safety and health qualification that is equivalent to the European Qualification Framework Level 4. Professionals can also put forward any qualification IOSH uses to assess against the entry criteria.
Technical Member (TechIOSH)
In order to satisfy the requirements of technical IOSH membership, you must have the qualifications needed for associate membership in addition to a minimum of 2 years of relevant experience.
Graduate Member (GradIOSH)
Becoming a graduate member of IOSH can be achieved through an academic route. One can become an affiliate member and progress immediately to graduate membership through a relevant degree. The graduate membership position can also be accessed by
Chartered Member (CMIOSH)
Chartered membership of IOSH requires some more requirements to be satisfied. These include an open assessment and the presence of a skills development portfolio. In addition to these criteria, a peer review interview is also used to determine the knowledge and skill of the applicant. It is also worth noting that all experience is assessed according to the qualification route when evaluating the progression to chartered status.
Chartered Fellow (CFIOSH)
Chartered Fellow membership is the level of qualification available in IOSH. To fulfil the requirements you must have a minimum of 5 years' experience as a chartered member of IOSH. The process involves an application with a portfolio review and interview.
IOSH Training Courses
In addition to the memberships, IOSH also offers a variety of different courses that are aimed at people of all skill levels in health and safety. The institution divides its courses into different categories.
Core Skills: focuses on the fundamentals of health and safety that everyone must know
Management Education: aims to educate managers who are responsible for delivering the businesses objectives in a safe manner
Executive Education: looks at providing guidance to those responsible for the holistic delivery of a business's objectives and targets
Professional Development: aims at providing high-quality education to health and safety professionals
Tailored training courses: aim at providing good health and safety education in a number of different sectors and niches
Benefits of membership
IOSH is a very well-respected organisation in the health and safety field. Access to memberships gives professional post-nominal letters that allow HSE professionals to showcase their experience and expertise in the field.
In terms of the specific benefits of IOSH membership, it depends on the level that you enter. Some of the topline benefits include increased career prospects, the expansion of your personal network, access to news and policy updates and the ability to become a trainer at some point down the line.
---
A word from Duncan Spencer (Head of Advice and Practice at IOSH)
As shown the IOSH membership levels help to provide a framework for evaluating safety professionals and encouraging development within the field. At our HSE UK Congress, we caught up with Duncan for a chat about IOSH and some other key areas within the safety sphere including ISO 45001.